Back to News Releases
Wing Tai Unveils Urban Living Art Collaboration with LASALLE College of the Arts at The M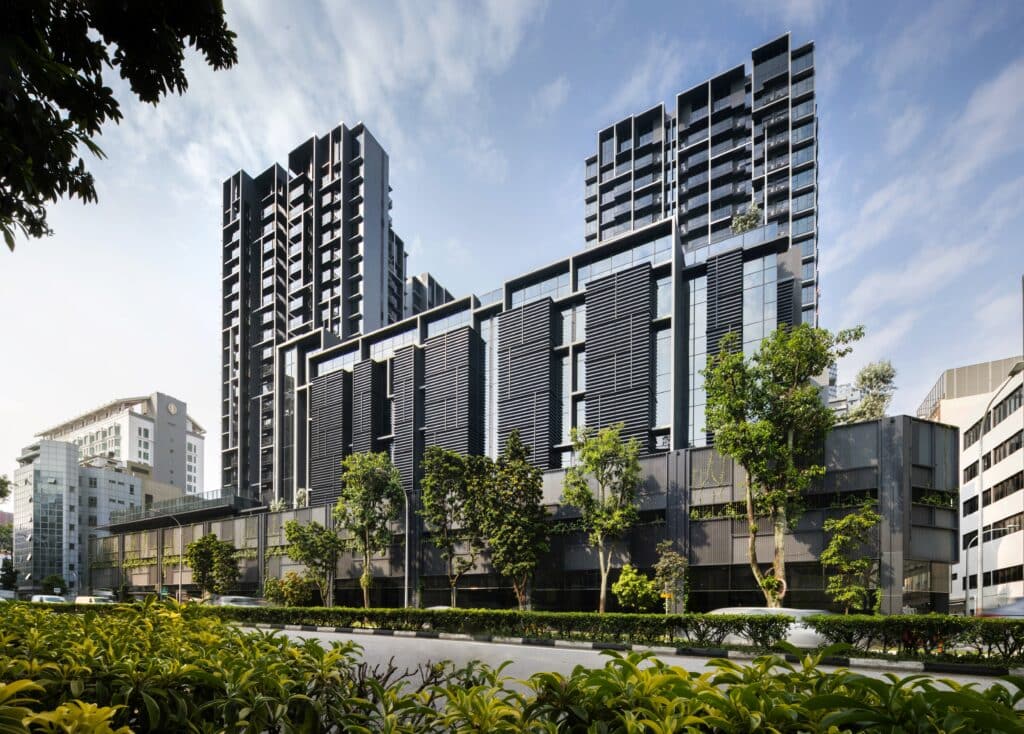 SINGAPORE, 20 October 2023– Wing Tai Asia (Wing Tai) and LASALLE College of the Arts (LASALLE) have unveiled the Wing Tai x LASALLE Urban Living Art Collaboration at Wing Tai's newly completed residential development The M at Middle Road.
A collaboration three years in the making, this is a first-of-its-kind initiative which engages local artists on the creation and curation of artworks from the initial design stage of a residential development. The opportunity to be involved throughout the whole development process, and working closely with the design team, allows artists to better capture the essence of the architecture and development in their artworks, enlivening the spaces meaningfully.
Mr Edmund Cheng, Deputy Chairman, Wing Tai Holdings Limited, says, "It has been a delightful experience working and engaging with these passionate artists from LASALLE. Wing Tai has always integrated art in our developments, where we create meaningful avenues for residents to discover and enjoy art. What is different about this initiative is that the artworks are curated for the residents of The M by their neighbour in this culturally vibrant district – LASALLE. Engaging the artists from the start of the project gives them a better appreciation of the design considerations. This enables them to create artworks that harmonise and enliven the environment at The M in a more organic way. While each artwork tells its own story, together, they reflect the artistic and cultural heritage of the Bugis area. This adds an extra dimension to the spatial experience at The M. In learning the story behind each artwork, we hope that residents will enjoy engaging with them as much as we did creating them with the LASALLE artists."
Professor Steve Dixon, President of LASALLE, says, "It has been a great joy and privilege to collaborate with Wing Tai on this groundbreaking project. Art is often added to a building as an afterthought upon its completion, but in this case, art was integrated into the development of The M from the start — enabling our alumni artists and designers to create installations that are purposeful, meaningful, and bring out the essence of the space in a way that honours the vision of the developers as well as the history of the Bugis neighbourhood. The art that surrounds us enriches and enlivens our daily lives. It makes a difference to how we live, work and play. Through this project, we hope to inspire the inclusion of artists in a wide range of developments in future, and showcase the significant impact that art can make in the spaces around us." The collaboration features four unique urban living art installations curated by six alumni of LASALLE's McNally School of Fine Arts and LASALLE's School of Spatial and Product Design for The M.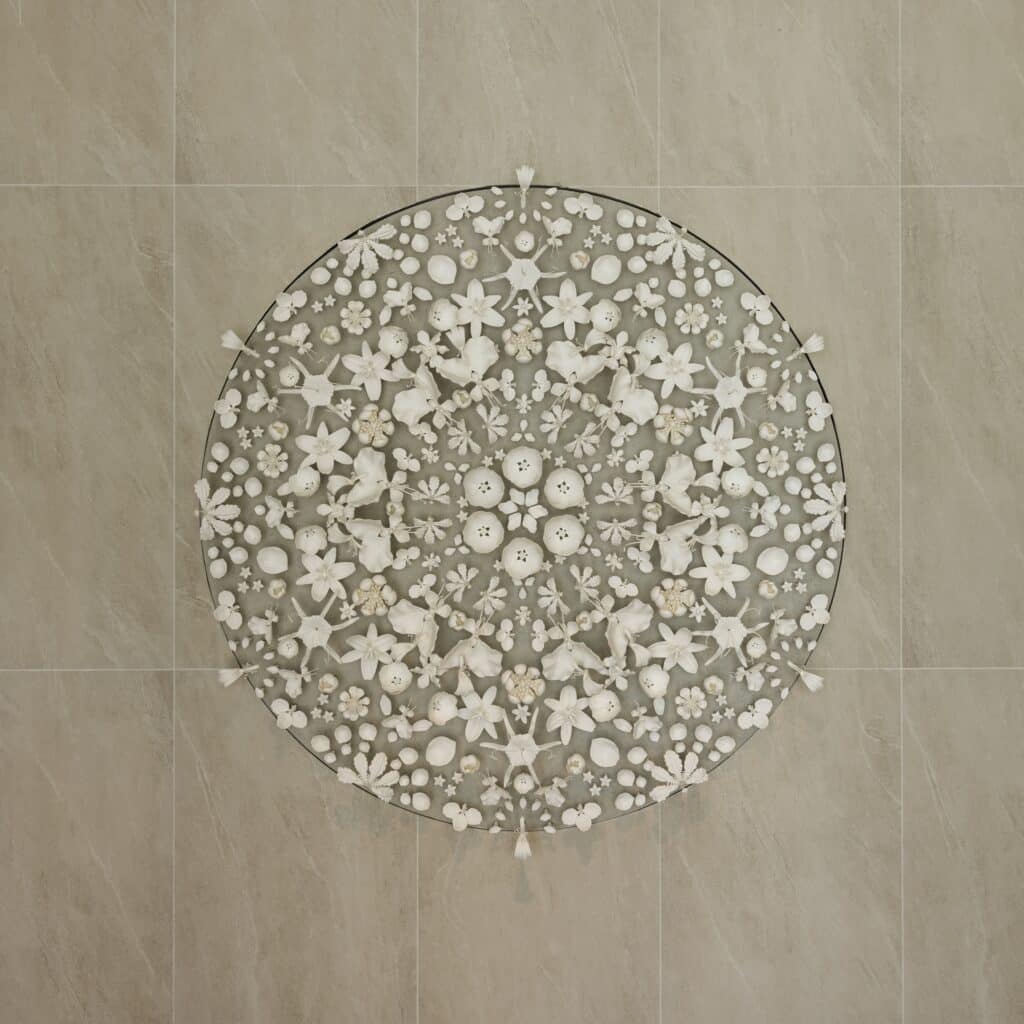 Garden
by Ashley Yeo, BA (Hons) Fine Arts (Class of 2011) and Shirley Tan, BA (Hons) Interior Design (Class of 2017)

Garden is an art installation consisting of two exhibits inspired by the mandala and cosmos, designed with 3D prints showcasing 10 native flowers of Singapore in over 50 variations. The installation aims to provide serene and calm respite within the bustling urban environment.

The mandala-based installation symbolises unity and self-discovery. Its symmetrical patterns invite introspection, offering visitors a contemplative space amid the urban chaos.

Taking reference from the Cluster M45, the bright stars of the Pleiades, the second installation in the clubhouse celebrates celestial elements intertwined with native flowers, encouraging viewers to contemplate their place in the vast cosmic order.

Through Garden, the creators aspire to promote inner harmony and appreciation for Singapore's diverse flora. It beckons individuals to share the experience and fosters a sense of community amidst the busy urban landscape. Ultimately, this amalgamation of art and nature serves as a reminder to embrace both the richness of our inner worlds and the magnificence of the cosmos, resonating harmoniously within the urban fabric.
Focal
by Brandon Yeo, BA (Hons) Interior Design (Class of 2017) and Sai (aka Chen Sai Hua Kuan), Diploma in Fine Arts (Class of 1997)

Focal is a magnificent sculpture that embodies the spirit of unity, drawing inspiration from people of different ages, cultures and life experiences, converging at a shared destination of jubilation. It harmoniously fuses two planes at the side, through the use of a rainbow hued glass in the middle, which symbolises the coming together of individuals from diverse backgrounds. As the sun filters through the glass, a kaleidoscope of colours dances on the ground below, signifying the joy that arises when people from all walks of life come together in harmony.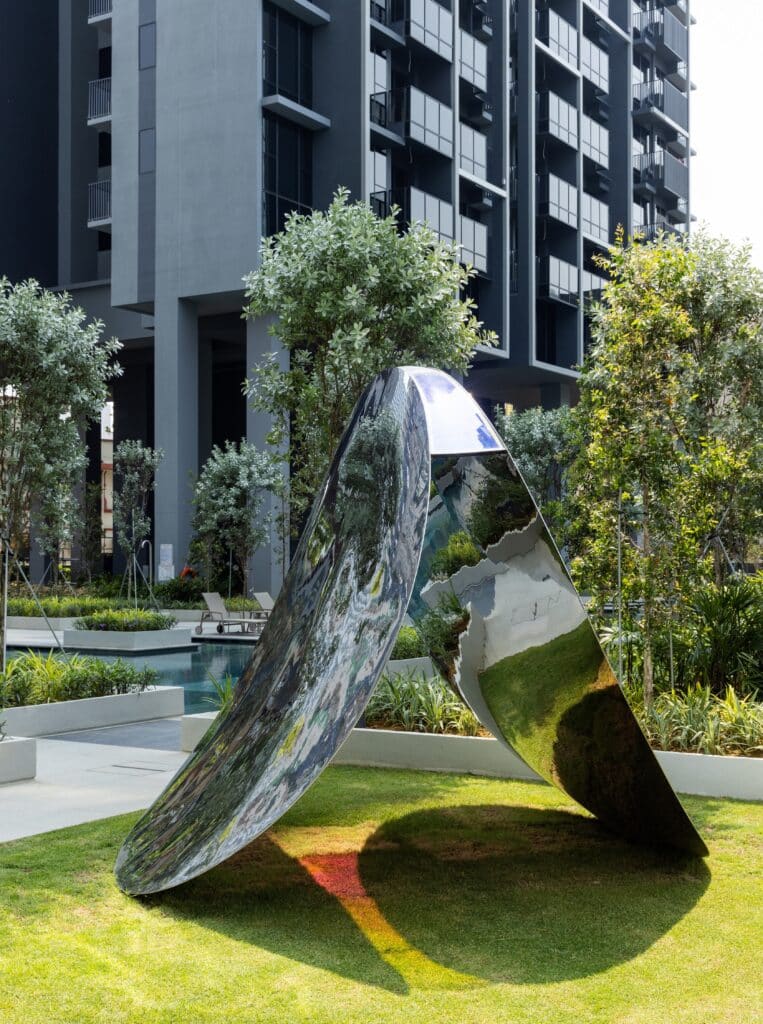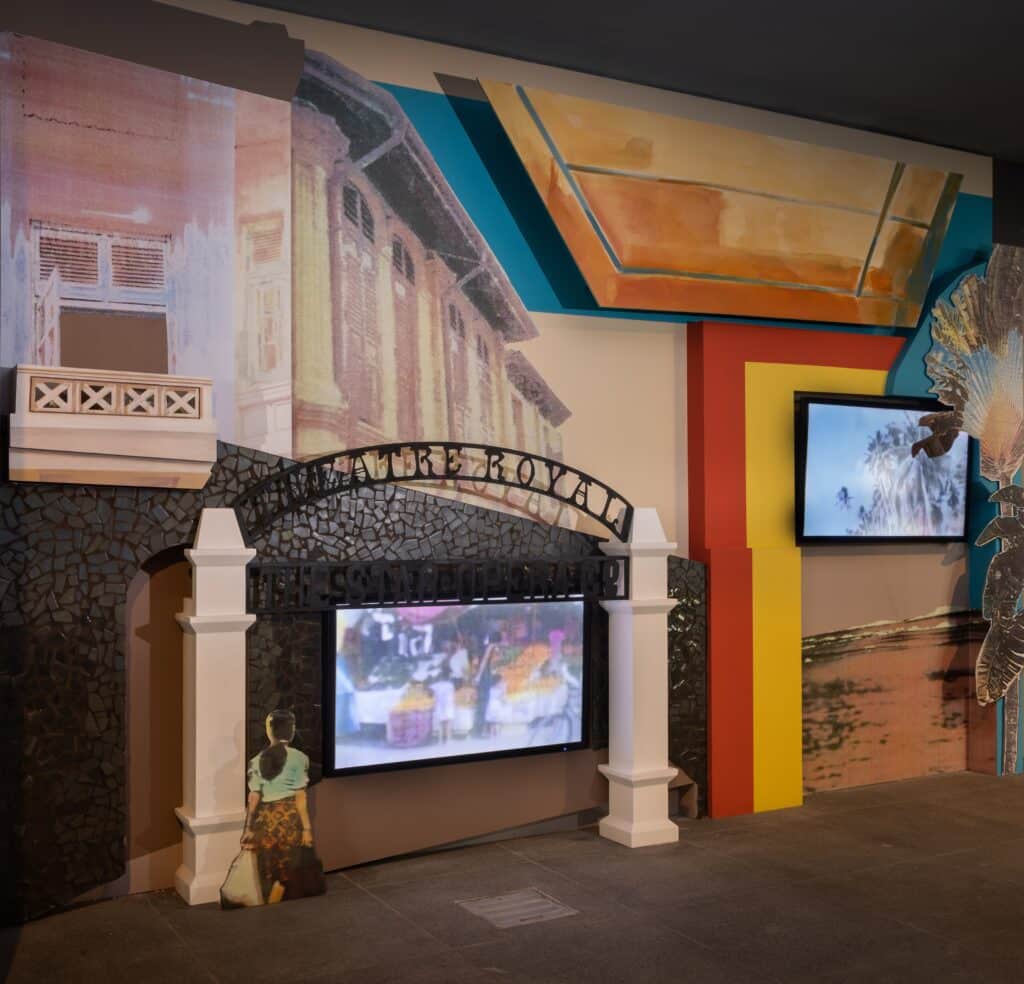 City Dwellers
by Hilmi Johandi, BA (Hons) Fine Arts (Class of 2013) and MA Fine Arts (Class of 2018) and Vicknesan Subramaniam, BA (Hons) Interior Design (Class of 2013)

Through a combination of mixed-media process of collage, painting, sculpture and video, City Dwellers is a reinterpretation of pre-existing images and motifs which explore the memories of the area. As seen in postcards and historic references, these images provide visual information to promote and document the surroundings as a vibrant place to live and work for the residents while also showcasing Singapore as a picturesque modern city to an international audience. By deconstructing, reconstructing, and superimposing these past images into a montage, it allows the viewers to rediscover the history and cultural heritage of the region.

The moving images, colour transitions and textures of the various media draw one's attention to an intimate observation of stories to tell. As one wanders through the ever-changing landscape, the extracted images of the past are observed, inscribed, and reinterpreted in the present.
For more information on the artists, please refer to ANNEX A.

ISSUED BY
Wing Tai Holdings Limited

FOR MEDIA ENQUIRIES
Sher Ling Chia
Head, Group Corporate Communications
Wing Tai Holdings Limited
Tel: +65 6380-3956
Email: sherling@wingtaiasia.com.sg

Chen Cuifen
Manager (Public Affairs)
Division of Communications
LASALLE College of the Arts
Tel: +65 6496 5216
Email: cuifen.chen@lasalle.edu.sg
ABOUT WING TAI ASIA
Wing Tai Holdings Limited is Singapore's leading property developer and lifestyle company reputed for quality and design. The principal activity of the company is that of an investment holding company, focused on key markets in Asia. The Wing Tai Asia network of companies including Wing Tai Holdings Limited (Singapore), Wing Tai Malaysia Sdn. Bhd. (Malaysia), Wing Tai Properties Limited (Hong Kong), Wing Tai China Pte Ltd (China) and their subsidiaries, have core businesses in property investment and development, lifestyle retail and hospitality management.
www.wingtaiasia.com


ABOUT THE M AT MIDDLE ROAD
Located in the heart of the city, The M is a new mixed development in Middle Road that comprises three 20-storey towers and one 6-storey tower atop a row of commercial units. With 522 units ranging from studio apartments to 3-bedrooom dual-key units, residents of The M will live in the bustling Art, Heritage and Business district, served by three MRT stations. Inspired by the varied work-live-play lifestyles of today's modern homeowners, The M's HOME/WORK® concept creatively offers a versatile, multi-functional environment to suit the needs of everyone – from professionals and entrepreneurs to families and urban sophisticates – all in the comfort of home.
www.them.sg


ABOUT LASALLE COLLEGE OF THE ARTS
Asia's leading contemporary arts and design institution.
LASALLE College of the Arts is the highest ranked specialist arts institution in Singapore and joint top in Southeast Asia for art and design (QS World University Rankings 2023).

The College offers 35 Diploma, BA (Hons) and postgraduate programmes in fine arts, design communication, interior design, product design, film, animation, fashion, dance, music, theatre, arts management, art histories, curatorial practices, arts pedagogy and practice, arts and cultural leadership, art therapy, music therapy, creative writing and arts and ecology.

LASALLE provides a nurturing, interdisciplinary learning environment to inspire the next generation of forward-looking, globally engaged artists, designers and leaders of creative industries. Its faculty is led by a community of award-winning artists, designers, educators and researchers, and their practice-led research sets LASALLE apart as an international centre of excellence.

Founded in 1984 by the late De La Salle Brother Joseph McNally – a visionary artist and educator – LASALLE is a non-profit private educational institution. The College receives tuition grant support from Singapore's Ministry of Education. LASALLE is a founding member of the University of the Arts Singapore.
www.lasalle.edu.sg

Annex A – Artist Bios
Ashley Yeo, BA (Hons) Fine Arts (Class of 2011)
Ashley YK Yeo graduated with an MA Fine Art from Chelsea College of Arts, University of the Arts London in 2012 and a BA (Hons) Fine Arts from LASALLE College of the Arts in 2011. She has participated in numerous exhibitions in Singapore, Japan, South Korea, the United Kingdom and the United States. Ashely was the first Singaporean artist to be shortlisted for the LOEWE Craft Prize in 2018.

Encompassing drawings and art objects, Ashley's practice stems from private thoughts and ontological questioning. She is currently interested in maintaining a relationship with nature. Her practice revolves around themes of lightness and slowness.
www.yeoashley.net


Shirley Tan, BA (Hons) Interior Design (Class of 2017)
Shirley Tan is an interior designer at Warner Wong Design (WOW), an international consultancy specialising in architecture, interior and landscape design, and masterplanning. She embraces a process-driven approach, ensuring each project is unique, timeless and tailored to meet her clients' visions and business goals. Shirley also believes in our innate connection with nature and the environment and strives to craft spaces rich in sensory and cultural experiences.


Brandon Yeo, BA (Hons) Product Design (Class of 2017)
Brandon is the senior lead designer at Trigger Design Studio. He is curious about the daily experiential interactions between people, objects and space, and often questions how things can be done in a much better way. He believes that design serves as a role that is more than just beautifying solutions, but to involve empathetic, thoughtful and sensible processes that can empower society for the better.
www.br-dn.com


Sai (aka Chen Sai Hua Kuan), Diploma in Fine Arts (Class of 1997)
Sai graduated from LASALLE College of the Arts in 1997. In 2007, he received a Master in Fine Art at Slade School of Fine Art, University College London.

Sai's practice includes sculpture, installation, sound, film and drawing, all of which encircle the notion of play, uneventful and overlooked everyday experience. Sai often transforms and deconstructs ordinary things/everyday situations to open up a fresh interpretation surrounding them as a way of challenging the habituated eye. He sees his works as the outcomes of conditional activities determined and enabled by site and context, which go beyond object making and studio practice.

Sai's artworks have been widely collected by private collectors and institutions in Singapore and abroad.
www.saistudio.org


Hilmi Johandi, BA (Hons) Fine Arts (Class of 2013) and MA Fine Arts (Class of 2018)
Hilmi Johandi works with painting and explores interventions with various media to pursue ideas of image-making. He revises images from film, archival footage and photographs into a fragmented montage that hints at the social effects of rapid development. Beyond the reflection of nostalgia in Hilmi's work is a subtle portrayal of a society that encourages the viewer to reflect existing historical narratives, within the context of Singapore.

Hilmi is the recipient of the Young Artist Award 2018 and one of the five artist finalists to participate in President's Young Talents 2018 with the Singapore Art Museum. He was also a recipient of the National Arts Council's Arts Scholarship (Postgraduate) in 2017.


Vicknesan Subramaniam, BA (Hons) Interior Design (Class of 2013)
Vicknesan is an adjunct lecturer at LASALLE's School of Spatial & Product Design and Principal Designer at Aesthete Interior Design.

As a design consultant, Vicknesan worked on various types of residential and commercial projects, ranging from the smallest apartment size of 400 sq ft to luxurious bungalows of 30,000 sq ft. He also worked on a corner semi-detached house in collaboration with a local architecture firm, which was shortlisted as one of the finalists for World Architecture Festival under the 'house and villa' category.